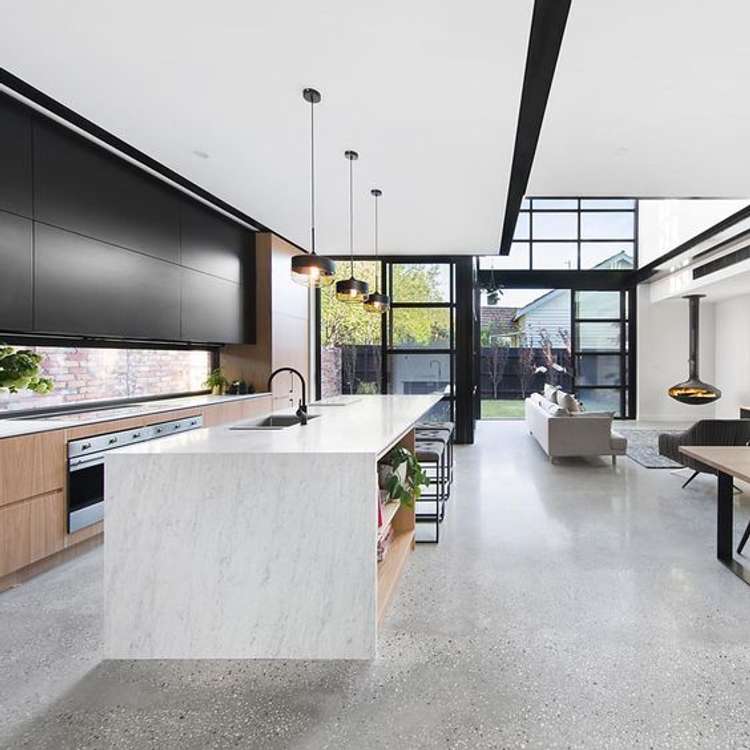 When you initially think of concrete floors, you probably think 'cold'or 'industrial'. But with its ability to take on colour and a polished sheen, coupled with its many benefits, concrete may become your new favourite on future projects. Be prepared to have your mind blown by how beautiful, elegant and warm a concrete floor can look.
Here are just some of the benefits of concrete floors.
Sustainability
Concrete floors are a sustainable option if you use an existing concrete slab, avoiding the consumption of new materials. And they need not be relegated to basements or garages. Once the concrete is sanded down and polished or sealed, it looks perfectly refined in a traditional kitchen or living room, especially when layered with rugs and pretty furnishings and fixtures.
Easy care
The only maintenance required of concrete floors is weekly mopping with soapy water. I recommend installing a skirting board along with the concrete floor as well, even though you think you may not need it. Just imagine what a dirty mop would leave behind in the crevice where the floor meets the wall if there were no skirting. And it will make your choice look finished and intentional.
Versatile 
The cost of polishing an existing concrete slab to a satin sheen is approximately $130 per square metre, according to Caroline Kouts of Urban Concrete Floors in Victoria, though this price may vary depending on the size of the area to be polished. The concrete's tonal differences, subtle cracks and aggregates take on a stone-like, natural feel.
More elaborate finishes can cost from$120 to $125 per square metre, including a gloss finish. Staining concrete floors has been a popular option for years, because the outcome is determined by the homeowner's imagination – different colours and application techniques combine to create a finish that's unique to the home, with subtle variations across the floor.
Other decorative effects can include scoring in a grid pattern to create a tiled look, or even highly decorative faux finishes, such as a marbled effect.
Longevity
A floor that has been polished and maintained can be expected to last a hundred years or more. Let's appreciate how an aged and cracked concrete floor is not hidden under new tiles or carpet. Instead it is celebrated for the history it holds, and put on display.
Versatility
For exterior applications, silicon-based penetrating sealers can be used to avoid the wet look. We can see here how concrete is a good flooring material for indoor-outdoor transitions. Concrete also looks nice with actual stone veneer walls. It accentuates their rustic appeal. Concrete can be an economical and crafty choice in lieu of salvaged wood flooring. Stamping wet concrete with plank-like wood-grain imprints creates a lovely effect.