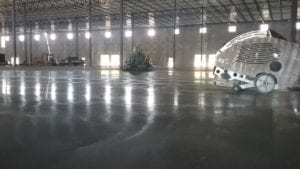 Yoder Laser Concrete – The purchase of a Laser Screed has allowed Yoder Laser Concrete to do large concrete jobs (over 1 million sq. ft. per year) for very competitive prices and superior levelness. We are Amish owned and operated. Yoder Laser Concrete incorporates old time hard work and honesty with modern technology, so that we can ensure complete service and satisfaction to our customers. Located on CR 203 in Millersburg, in the heart of Amish Country, Yoder Laser Concrete looks forward to serving all your concrete needs.
Feature Story in the Post Newspaper By: Kristen Mooney
Yoder Laser Concrete, located in the heart of Amish country in Millersburg, Ohio offers customers a chance to get affordable concrete that is not only durable, but also decorative and appealing. The company was originally founded more than a decade ago by Dan Yoder, an Amish man who makes his home in Millersburg, Ohio. Today, Yoder Laser Concrete consists of approximately 30 employees and services customers throughout Ohio and its surrounding states. General Manager, John Clark, says the company handles a myriad of projects including, industrial, agricultural, commercial and residential. This means they're capable of creating massive industrial floors and pads while also specializing in residential driveways, patios, basements, pools and more.
Yoder Laser Concrete, the Alpha and Omega of concrete placing and finishing, we can help you land more projects even with the state of the economy. You prep, we place, finish, seal and saw-cut starting at $0.35 cents per sq. ft, add $0.20 cents per sq. ft for us to prep your slab. For projects that require materials and labor included, we plot our own prints, and we can give you a complete concrete package. We cover Ohio and surrounding states.
"It takes an awareness of the new and innovative concepts that are being utilized in the concrete industry everyday to improve the procedures of consolidating and finishing concrete," Clark says. Clark added that he spends much of his time researching the latest advances and techniques in the concrete industry so he can pass along that information to his employees and expand the services of the company. One of these advances is the Somero S-100 Laser Screed, which is used to improve the flatness and levelness of a slab of concrete. This high-tech machine allows Yoder Laser Concrete to meet the needs of larger commercial and warehouse projects with the capability of pouring up to 25,000 sq. feet per day. Even further, it has successfully completed concrete projects in the past for businesses like Wal Mart, CVS Pharmacies, and Walgreen's with precise flourish, Clark says. For folks looking to add a flourish of their own, Yoder Laser Concrete also offers both patterned and colored cement that give any home a signature style. "It's not your standard, run of the mill concrete," he said. "It's artistic and exquisite."
Customers can even request that their concrete look like brick or stone, which heightens the appearance of not only driveways, but also pool decks and patios. Clark said that while some people prefer to have neutral-colored concrete, others elect to choose colors that match their house paint or simply look striking. But what really ensures customer satisfaction even above a beautiful exterior, is the dedication of Yoder Laser Concrete has to its customers. Clark says he and his employees always strive to make sure customers are content with their concrete project before leaving the job site.
"We exhaust great efforts to ensure that each project meets the customer's needs and demands through knowledge and communication to achieve the most desired happiness," he said. Clark added that a large source of the company's commitment to integrity lies with Mr. Yoder's Amish background. Yoder instilled his values of hard work and service into his original employees and those values have remained steady throughout the company's history. It's this combination of ethics and modern concrete services that makes Yoder Laser Concrete the ideal company for any residential or industrial project. "We get there early and work hard all day," Clark said. "It's old-world ethics, combined with new-world technology."
Clark emphasized that the employees at Yoder Laser Concrete are experienced and seasoned workers. Between them, they have more than 100 combined years of experience in the field. This means a greater mastery of what Clark calls the science of concrete. "It starts from the time you schedule the project and track the weather until you step out of the truck on the project and make any adjustments to the concrete mix to compensate for deviations that the weather may provide. It's also not something you can leave until winter." Clark said fall is the perfect time to complete your concrete projects because everything will be solidified and polished by the time the snow starts to fly in a couple of months.
Clark added that as people are lining up the last of their projects, they could actually save thousands of dollars by choosing to use concrete instead of asphalt. As the cost of asphalt has recently seen a sharp increase, which makes Yoder Laser Concrete's prices even more competitive. To take advantage of these great prices and the hard working nature of Yoder's employees, you can contact Yoder Laser Concrete at 330-674-3365 or visit the company at 163 East Adams St in Millersburg between 7am and 5:30pm Monday through Friday. Customers are also encouraged to check out Yoder Laser Concrete on the web at www.yoderlaserconcrete.com.
When quality, time and money are important to you, call us at (330) 231-4282.